New Design Coming
November 17, 2010
This will be the last post for a while.  Big surprise right?  I barely update once a year… At least you are getting a warning this time!
I'm working on a new website design.  It will be a modification of my current site at http://michelenarup.com, except this blog will be built in.  The working design is below.  I'd love to hear any feedback. 🙂  Redesigning my blog has been something I've been wanting to do for a while.  A web developer using someone else's theme just seems wrong to me.  I think making my website and blog one combined site will be the best for this.
Notes:
"Blog" will be added among the navigation links
Contact will have a larger list of social networking sites that what is featured at the top of the page
The Contact page will also have an email form, as well as a mailto: link
I haven't decided if I will hard code my portfolio items in, or come up with some way to utilize the WordPress engine to manage each entry as an item… That will take some more thought on my part.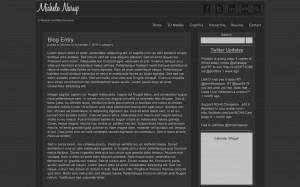 This entry was posted in
News
. Bookmark the
permalink
.